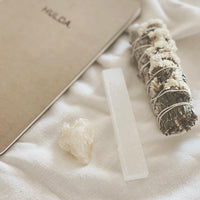 The Manifestation Ritual Set contains everything you need for the Manifestation Meditation. Manifestation Meditation is one of the best ways to raise your vibration. When you put all your energy into a meditation where you try to visualize what you want to manifest, your vibration aligns with your goal.
The Manifestation Ritual Set includes the following:
Californian white sage bundle with dried flowers (approx. 10cm)

citrine crystal

Selenite crystal

Manifestation Journal (A5)

Cotton bag (13x18 cm)

Instructions for a Manifestation Ritual
White sage , also known as Indian smoked sage, has a positive influence on the body and mind. Its cleansing and clarifying effect helps to expel unpleasant energies.
Citrine is an important crystal of manifestation and personal will. It carries the power of the sun, is warm and calming, energizing and life-giving. Its frequency awakens creativity and imagination and supports the process of transforming dreams and desires.
Selenite is a powerful, purifying stone. It creates order in our thoughts and around us and creates calm and balance. It helps to let go of negativity and brings positive energy with it.
The manifestation journal is used to write down one's desires and goals in life so that they are attracted and turned into reality.