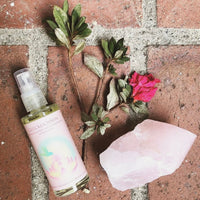 Organic aroma spray Happy Being with rose quartz (100ml)
The organic aroma spray Happy Being for serenity creates a peaceful, harmonious and comforting atmosphere. It supports letting go of mental injuries and helps to find inner balance. The floral-sweet fragrance with rose and iris is a real comforter. Just the right thing when the soul needs tender attention.
The room fragrance contains a small rose quartz stone, which is carefully added by hand. The rose quartz gemstone is an important healing stone for the heart. With him you can feel great feelings of love - especially to yourself. He supports you in meeting yourself with respect and love. It also opens the heart and creates harmony inside and out.
Application
Spray two to three sprays in the morning and evening - or during the day if necessary. Pause for a moment and let the lovely scent work its magic on you. It is recommended to use the Organic Aroma Spray Happy Being regularly over a long period of time.
in the living room and bedroom

at work

when traveling by car, train, plane etc.

in classrooms and practice rooms

as a perfume

Size
100ml
The Bio Aromaspray GlückSein is a Swiss product and is made with natural ingredients and without preservatives.
ingredients
100% natural essential oils (lavender, rose, iris, frankincense, neroli, etc.) mixed in organic alcohol with rose quartz
Danger
Highly flammable liquid and vapour. May cause an allergic skin reaction. Keep out of the reach of children. Don't ingest.