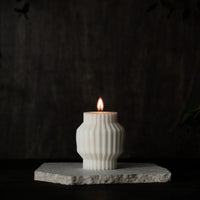 The Thasa candle enriches every room and every tablescape with its simple yet playful shape.

15cm x 5.5cm
~180g
100% natural rapeseed wax
unscented
vegan, environmentally friendly, non-toxic
These candles are lovingly made by hand in Switzerland, using only 100% natural wax.
Please note that due to the natural materials, slight variations in color and appearance may occur. Small irregularities give each candle a unique character. The quality is always maintained. The Thasa candle - unique aesthetics and naturalness for your room!

Be sure to never leave a burning candle unattended and do not place it near flammable materials. While burning, the candle should be placed in a well-ventilated room. Before relighting, it is important to cut the wick to a length of less than 1 cm to promote quiet and even burning. These simple steps will help ensure candle handling safety and create a pleasant, worry-free experience.