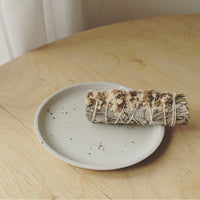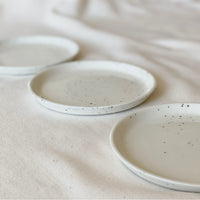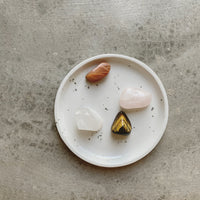 The beautiful handmade incense plate is ideal for smoking sage, palo santo or other herbs and protects surfaces while burning. The plate can not only be used for incense, it can also be used for candles, crystals, etc.

The incense plate is made of porcelain with black inclusions. It is cast by hand and fired at 1260 degrees in the Studio Sediment Atelier in Zurich. Each handmade incense plate is unique. This means that the density of the inclusions on the surface are different.
Characteristics
Porcelain with black inclusions
Transparent glossy glaze
14cm diameter, 1cm edge height
heat resistant
Designed and manufactured in Zurich
Care
The ceramic studio Studio Sediment is located in the heart of Zurich's district 6. It specializes in the production of cast porcelain. From its own products to commissioned work and workshops, the studio relies on traditional craftsmanship, the best quality paired with creative passion.

From the idea to the sketch and from the plaster model to the casting, glazing and firing of the porcelain, everything is handcrafted on site. In small series, handcrafted everyday ceramics are created that delight anew every day.