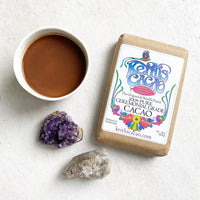 Keith's Cacao Block - 100% Pure Ceremonial Grade
The original & the world's finest 100% pure ceremonial grade cacao from Guatemala. Keith's Cacao is a powerful heart opener and herbal superfood that strengthens mind, body and spirit. Without additives, without chemicals and without loss of quality.
Keith's Cacao promotes the following properties:
a sustained burst of energy

productivity and creativity

focus and concentration

consciousness and spirituality

Healthy lifestyle
The Ceremonial Grade Cacao is prepared using traditional methods to ensure the full potency of this medicine. Locals' experience of "perfect roasting" over wood-fired ovens goes back many generations, yielding complex cocoa flavors. Each bean is hulled by hand and inspected twice by the local workshop team to remove any inferior beans or other contaminants.
A block weighs 454 grams.
With every purchase of a block of cocoa, you support over 20 local families in Guatemala. Keiths Cacao creates jobs primarily for women, who have fewer employment opportunities in Guatemala. The women can thus read the cocoa beans at home independently and at flexible working hours.