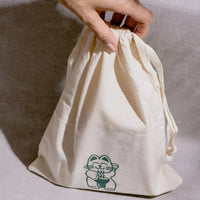 Organic Matcha Tea Starter Set
The Matcha Starter Set is ideal for Matcha newbies and anyone who wants to improve their daily Matcha ritual. It contains a 30g can of matcha powder as well as the most important Japanese matcha accessories for preparation and is delivered in a beautiful cotton bag with a drawstring. With this set you have everything you need for a perfect matcha preparation and can look forward to an authentic and traditional experience. Let yourself be enchanted by the world of matcha!
What is included in the set
Ceremony Matcha powder (30g can)
Bamboo broom ('chasen')
Bamboo spoon ('chashaku')
Ceremony Matcha powder
30g can of matcha powder to prepare your favorite matcha drink. The powder is 100% organic and sustainable.

Bamboo whisk 'Chasen'
The whisk specially designed for preparing matcha is called "Chasen" in Japanese and is made of bamboo. It has been used in traditional tea ceremonies for centuries. The whisks are made by hand, with the bamboo being cut into 80 fine teeth with a small knife. Using a whisk will give you a perfectly creamy, frothy matcha with a smooth consistency as it allows the powder, water and air to mix to release flavors and essences.

Bamboo spoon 'Chashaku'
The Chashaku is handmade from 100% bamboo and is used in the traditional Japanese tea ceremony to portion matcha. Unlike a metal spoon, a bamboo spoon does not build up a static charge, meaning the matcha powder can easily slip off. Wipe it with a clean, dry towel after each use. A bamboo spoon is approximately 1/3-1/2 of a teaspoon - so a normal serving size would be 2-3 bamboo spoons.

Why we love him so much

Umami, full-bodied, smooth taste with a lingering sweetness
100% organic and sustainable
Originates from Uji, Japan
High quality, ceremonial quality
Handpicked & stone ground
Vegan & sugar-free
Rejuvenate your mind and body with a calming, invigorating drink made with Ceremony's traditional Japanese Matcha powder. Our ritually grown matcha offers a delicious alternative to your daily cup of coffee.
preparation
1. Place 1 teaspoon of matcha in a bowl
2. Add about 50ml hot (max. 80°C) water
3. Whisk well, shake or mix until foam forms
4. Add your preferred warm milk and fill the glass
5. Drink and enjoy!