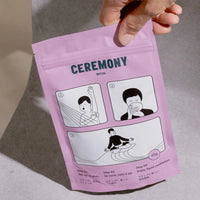 The distinctive 60g packet of Ceremony Matcha powder is perfect for making your favorite matcha drink at home. Made from premium, ceremonial Matcha powder sourced directly from a farm in Uji, Japan, it is the ideal choice for Matcha lovers. One packet is enough for 30-60 servings of matcha, making it a practical size for everyday use.
Why we love him so much

Umami, full-bodied, smooth taste with a lingering sweetness
100% organic and sustainable
Originates from Uji, Japan
High quality, ceremonial quality
Handpicked & stone ground
Vegan & sugar-free
Rejuvenate your mind and body with a calming, invigorating drink made with Ceremony's traditional Japanese Matcha powder. Our ritually grown matcha offers a delicious alternative to your daily cup of coffee.
preparation
1. Place 1 teaspoon of matcha in a bowl
2. Add about 50ml hot (max. 80°C) water
3. Whisk well, shake or mix until foam forms
4. Add your preferred warm milk and fill the glass
5. Drink and enjoy!