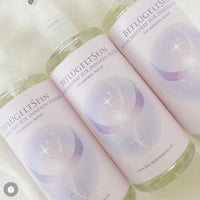 Organic aroma spray inspired being with white agate (100ml)
The organic aroma spray inspired being for inner peace with white agate invites us on a journey into the world of awareness. The scent helps with discrepancies, also in the work area. It soothes irritated nerves and increases self-confidence. It is a velvety and sensual fragrance.
The room spray contains a real white agate stone, which is carefully added by hand. The white agate, known as peace agate, gives warmth and tolerance towards other people and reduces aggression. It also ensures balance and calm.


Application
Spray two to three sprays in the morning and evening - or during the day if necessary. Pause for a moment and let the sensual scent work its magic on you.
in the living room and bedroom

at work

when traveling by car, train, plane etc.

in classrooms and practice rooms

as a perfume


Size
100ml


The organic aroma spray BeflügeltSein is a Swiss product and is made with natural ingredients and without preservatives.


ingredients
100% natural essential oils ( ylang-ylang, vanilla, patchouli, sandalwood from wild collection, etc. ) mixed in organic alcohol with white agate stones.

Danger
Highly flammable liquid and vapour. May cause an allergic skin reaction. Keep out of the reach of children. Don't ingest.