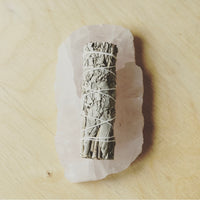 White Sage Incense Bundle
Beautiful white sage incense bundle (smudge stick). White sage is also known as Native American incense sage and is grown sustainably and organically in Northern California.
White sage (Salvia apiana) is one of the most common incense plants in North America. Fumigation is a ceremony common in many indigenous cultures. This cleanses the soul of negative thoughts about a person or a place. Smudging the plant is also used to connect with the spiritual world and intuition.
White sage is considered the strongest plant for "cleansing incense". When released, it ignites a fresh and aromatic scent with resinous and sweet components.
Effect
Strongly cleansing and clarifying

Builds up mentally

Refreshes the mind

Leads to wisdom and clarity
Application
The white sage incense bundle is lit at the top. All you need is one or two small leaves, then you fan the small flame until the bundle is really smoking. You can simply extinguish the white sage in smoking sand at the end or in the meantime and use it again at any time.
Height Weight
approx. 10cm / 30g